You are here: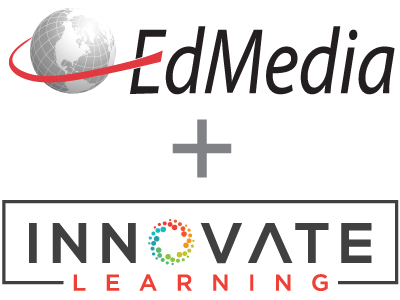 Representations of Information Spaces in Educational Tools
PROCEEDINGS
EdMedia + Innovate Learning, in Toronto, Canada ISBN 978-1-880094-81-5 Publisher: Association for the Advancement of Computing in Education (AACE), Waynesville, NC
Abstract
An educational tool's interface is its epistemic locus where learners engage with an information space. Since information is not tangible, it must be externalized in the form of representations. There are innumerable representations for encoding information. Different representations engage learners in different thought processes. In order not to design educational tools in an ad hoc manner, designers would benefit from having access to design frameworks that provide a systematic classification of representation design possibilities. This paper proposes such a framework. It classifies all representations of information into 8 categories and discusses their utilities. This framework can provide a means by which an entire tool's interface can be analyzed, designed, and/or evaluated.
Citation
Sedig, K. & Parsons, P. (2010). Representations of Information Spaces in Educational Tools. In J. Herrington & C. Montgomerie (Eds.), Proceedings of ED-MEDIA 2010--World Conference on Educational Multimedia, Hypermedia & Telecommunications (pp. 905-910). Toronto, Canada: Association for the Advancement of Computing in Education (AACE). Retrieved September 30, 2022 from https://www.learntechlib.org/primary/p/34742/.
References
View References & Citations Map
Ainsworth, S. (1999). The Functions of multiple representations. Computers and Education. 33 (2/3), 131-152.
Faraday, P. (1998). Theory-based design and evaluation of multimedia presentation interfaces. PhD. Thesis. School of informatics, City University, London.
Gurr, C., Lee, J. And Stenning, K. (1998). Theories of Diagrammatic Reasoning: Distinguishing Component Problems,. Minds and Machines 8 (4), 533-557.
Guthrie, J.T., Weber, S., & Kimmerly, N. (1993). Searching documents: cognitive processes and deficits in understanding graphs, tables, and illustrations. Contemporary educational psychology, 18, 186-221.
Harris, R. (1999). Information graphics: a comprehensive illustrated reference. Atlanta, GA: Management graphics.
Hollan, J., Hutchin, E., & Kirsh, D. (2000). Distributed Cognition: Toward a New Foundation for Human-Computer Interaction Research. ACM Transactions on Computer-Human Interaction, 7(2), 174-196.
Karasavvidis, I. (2002). Distributed cognition and educational practice. Journal of Interactive Learning Research, 13(1/2), 11-29.
Larkin, J.H. & Simon, H.A. (1987). Why a diagram is (sometimes) worth ten thousand words. Cognitive Science, 11, 65-99.
Liben, L., Kastens, K., & Stevenson, L. (2002). Real-World Knowledge through Real-World Maps: A Developmental Guide for Navigating the Educational Terrain. Developmental Review 22, 267–322.
Myers, K.L. And Konolige, K. (1992). Reasoning with Analogical Representations. In J. Glasgow, N.H. Narayanan, and B. Chandrasekaran (Eds.). Diagrammatic Reasoning: Cognitive and Computational Properties (pp. 273-301). Menlo Park,
Paivio, A. (1991). Images in mind: The evolution of a theory. Hertfordshire, UK: Harvester Wheatsheaf.
Post, FJ, van Walsum, T, Post, FH (1995). Iconic techniques for feature visualization. In Proc. Visualization, IEEE Comp. Soc. Press 288-295
Pratt, I. (1993). Map semantics. In A.U. Frank& I. Campari (Eds.), Spatial Information Theory: A theoretical basis for GIS (Proc. COSIT'93), 77-91 Berlin etc.: Springer.
Ribarsky, W, Ayers, E, Eble, J, Mukherjea, S (1994). Glyphmaker: Creating customized visualization of complex data. IEEE Computer 27(7), 57-64
Sedig, K., Klawe, M., & Westrom, M. (2001). Role of interface manipulation style and scaffolding on cognition and concept learning in learnware. ACM Transactions on Computer-Human Interaction, 1(8), 34-59.
Shepard, R. & Cooper, L. (1982). Mental Images and Their Transformations. MIT Press.
Stenning, K., & Oberlander, J. (1995). A cognitive theory of graphical and linguistic reasoning: Logic and implementation. Cognitive Science 19, 97-140.
Suwa, M. & Tversky, B. (2002). External Representations contribute to the dynamic construction of ideas. In Hegarty, M., Meyer, B., & Narayanan, N (Eds.) Diagrammatic representation and inference: second international conference, Diagrams 2002, Callaway Gardens, GA, USA.
Tufte, E. (2001). The Visual Display of Quantitative Information (2nd ed.). Cheshire, Connecticut: Graphics Press.
Tversky, B. & Lee, P. (1999). Pictorial and verbal tools for conveying routes. Proceedings of International Conference COSIT'99 Stade, Germany, August 25–29
Tye, M. (1991). The Imagery Debate. MIT Press, Cambridge, MA.
Vander Meij, J. & De Jong, T. (2003). Learning with multiple representations. Presented at the EARLI conference 2003, Padua, Italy
Ware, C. (2004). Information visualization: Perception for design, (Second Edition). San Francisco, CA: Morgan Kaufman.
Wilensky, U. (1999). NetLogo. Http://ccl.northwestern.edu/netlogo. Center for Connected Learning and Computer-Based
Zhang, J. (2000). In A. Kent (Ed.), Encyclopedia of Library and Information Science. External Representations in Complex Information Processing Tasks, New York: Marcel Dekker, Inc.-910 DASHDASH
These references have been extracted automatically and may have some errors. Signed in users can suggest corrections to these mistakes.
Suggest Corrections to References